Penn Medicine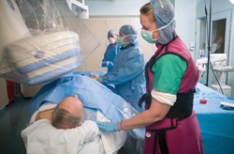 Since 1998, southern New Jersey's seashore communities have benefited from Shore Medical Center's clinical affiliation with the University of Pennsylvania Health System (Penn Medicine). This relationship strategically links the two health care systems, expanding medical services and programs in the fields of cardiac, and maternal-fetal medicine for area residents. This deep level of integration means better healthcare for you and your family. Together, Shore Medical Center and Penn Medicine combine research, clinical and educational resources to further enhance the high level of healthcare already provided by Shore Medical Center's outstanding medical, nursing and support staffs.
Cardiac Care
Through Shore Medical Center's affiliation with the Penn Heart and Vascular Network at Penn Presbyterian Medical Center, patients receive university-setting cardiac services right here in Somers Point. Penn cardiac specialists provide low-risk, same-day diagnostic cardiac catheterizations in Shore's CardioVascular Institute. Additionally, through the Penn Heart RescueTMProgram at Shore Medical Center, patients who arrive at Shore's Emergency Department with symptoms of a STEMI heart attack (a heart attack that is diagnosed by a 12-lead electrocardiogram or EKG) can be transported immediately to Penn Presbyterian Medical Center in Philadelphia for further emergency treatment.
Maternal-Fetal Medicine
Shore's Maternal-Fetal Medicine Program provides expectant mothers who have special risks with the advanced and specialized care they need. Area residents have the option of visiting Robert Debbs, D.O., a board certified maternal-fetal medicine specialist affiliated with both Shore Medical Center and the University of Pennsylvania Health System.