Shore Medical Center Physical Therapist Jennifer Brooks Named May Guardian Angel of the Month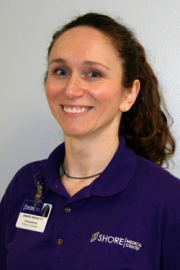 Shore Medical Center is proud to recognize Physical Therapist Jennifer Brooks as its May Guardian Angel of the Month for providing passionate and exceptional care to her patients. Whether it is for helping to deliver their first child or providing a meaningful service during a patient's hospital stay, the Guardian Angel Program was established to enable patients to say thank you to a special caregiver through a donation to Shore Medical Center.
Brooks, a contracted therapist with Bacharach Institute for Rehabilitation in Galloway Township, NJ, joined Shore in November of 2002. A physical therapist working with outpatients, Brooks also is a nationally certified lymphedema treatment specialist and assisted in the development of the medical center's lymphedema program. She created Shore's lymphedema support group and continues to facilitate it.
"Jennifer's skills and caring attitude toward her patients rank with the best in the field," said Brooks' supervisor Jennifer Pesce, Director of Rehabilitation at Shore.
Brooks lives in Galloway Township, NJ, with her husband Jack and 3-year-old son.
The Guardian Angel program recognizes anyone who works at Shore Medical Center and makes an impact and difference in your care. Guardian Angels are recognized amongst their peers and are presented with a special Guardian Angel pin at Shore Medical Center's annual pinning ceremony. If you, a family member or friend would like to honor a Shore Medical Center Guardian Angel, please contact the Shore Medical Center Foundation at 609-653-3800 or www.ShoreFoundation.org.