Shore Memorial Participates in the Annual Heart Walk on the Ocean City Boardwalk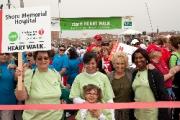 Nearly 100 Shore Memorial employees turned out for the American Heart Association's annual Heart Walk on the Ocean City boardwalk on Saturday, May 16. Employees wore green shirts supporting Team Shore Memorial's "Go Green" theme at this year's walk. Shore Memorial Hospital participates in several American Heart Association events each year to encourage the community to maintain a heart healthy diet, follow an active lifestyle and educate others about the risk factors for cardiovascular disease.
Caption: Shore Memorial Employees await the start of this year's Heart Walk on the Ocean City boardwalk. Pictured left to right are Shore Memorial employees Lucy Perna, education BLS trainer, Stacy Ross, clinical supervisor, Judi Marshall, cafeteria and Medora Adams-Lyttle, cafeteria.