Shore Memorial Hospital Graduates New Leaders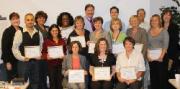 Seventeen Shore Memorial Hospital employees graduated from Innovative Leadership of the Delaware Valley's Leadership Development Institute (LDI) on Friday, June 5. This year's class is the sixth class from Shore Memorial to graduate from the program. Over a nine month period, LDI participants learn how to improve their managerial, communication and leadership skills.
Pictured is the class of 2009: Back row: Bonnie Bennett, RN, orthopedic unit nurse manager; Kris Liwoch, clinical informatics; Deborah Oatman, access management; Thomas Lynch, pharmacy; Ralph Perna, RN, oncology unit; Rich Wicker, health information management services; Maureen Bartuccio, RN, float team and medical-surgical nursing unit. Middle row: Jesus Pagan, diagnostic radiology; Diana Arango, laboratory; Kristine Kennedy, RN, dialysis; Denise Daily, health foundation; Lisa DiTroia, volunteer office; Janice Boehler, patient billing; Christine Gabrielli, social services. Seated: Karen Burns, RN, operating room nurse manager; Jessica Mankow, RN, neuroscience unit; Pat Hogan, intensive care unit nurse manager.