Emergency Medical Services
Shore Medical Center's Emergency Medical Services Department is staffed with New Jersey state-certified emergency medicine technicians and registered nurses trained in advanced specialty care transport. Shore also has five, specially equipped ambulances to provide both emergent and non-emergent care, including three certified Specialty Care Transport Units (SCTUs).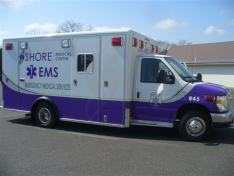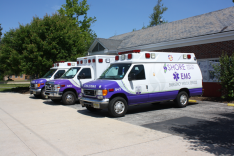 Services
Basic Life Support (BLS):
Shore Medical Center EMS provides 911 transport services and basic life support to the residents of Linwood, Northfield, Somers Point and surrounding communities. Shore is on-call to provide 24/7 service to the hospital and its patients.
Specialty Care Transportation Unit (SCTU):
The SCT Unit provides advanced level care to patients who require specialized treatment at another facility. Shore's state-of-the-art vehicles are designed specifically for advanced care transports and to ensure that patients are transported with the utmost comfort and safety.
Fast Facts
Shore provides EMS coverage for sporting events and municipal functions in Somers Point, Linwood, Egg Harbor Township and Atlantic City.
Shore is a current member of both the Atlantic City EMS Strike Team (providing immediate backup for Atlantic City during a mass casualty incident), as well as the Atlantic County EMS Task Force.
Since its inception in 2008, Shore's EMS team has cared for and transported more than15,000 patients and has its own 24/7/365 communication center.
Shore's EMS team has provided educational classes for local volunteer organizations, as well as elementary schools in an effort to educate children regarding EMS and ambulances. Shore is always happy to accommodate requests for educational programs.
All Shore EMS team members complete monthly training and yearly BLS competencies. They are also specially trained in rehabilitation for firefighters and in stabilization and extrication of entrapped patients.
Contact:
For Emergent or non-emergent transport request, please call 609-926-4474.