Shore Memorial's Administrative Director of Planning and Project Development Receives Leadership Profile Award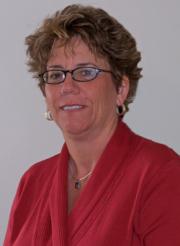 Fran Morrison, RHIA, MBA, administrative director of Planning and Project Development at Shore Memorial Hospital, recently received the hospital's prestigious Leadership Profile Award for her continuing efforts in developing and managing programs that foster Shore Memorial's commitment to providing excellent services to the community.
The Leadership Profile Award is presented quarterly to a manager for exemplary job performance and exhibiting the characteristics most valued in leaders within the organization.
"Fran is an exceptional leader who really inspires people to learn more, do better and serve others," said Kim Simers, vice president of Planning and Business Development at Shore Memorial. "I've learned a lot from her by observing the gracious way she interacts with others. She inspires trust and confidence."
As the administrative director of Planning and Project Development, Morrison works tirelessly in collaboration with Shore Memorial physicians and leadership to develop and implement new hospital programs ranging from Quick Care Centers to a new Wound Care Unit.
Morrison joined Shore Memorial as a coder/abstractor with the hospital's Health Information Management System (HIMS) in 1983 and was named assistant director of Medical Records by 1986. In 2002 Fran served as the hospital's Diagnosis-Related Group (DRG) coordinator, and in 2004 she was named administrative director of HIMS.
During her tenure with HIMS, Morrison instituted many advances in the department, including establishing a partnership with Burlington County College to address the shortage of coding resources in the southern New Jersey region and serving as a major contributor to Cerner Update initiatives.
Following a seamless leadership transition within the HIMS Department, Fran moved to Strategic Planning and Project Development where her clear thinking and savvy business skills continue to have a major impact on the organization. Morrison's accomplishments include establishing the Quick Care Center in Egg Harbor Township and improving services at the Somers Point and Ocean City Diagnostic Centers.
Her co-workers use adjectives such as "trustworthy, reliable and accountable," to describe Morrison. She is also credited as being a good negotiator and a highly respected leader who is committed to the well being of others.
"I'm honored to be selected for this recognition," Morrison said. "It's been a privilege to work with such a committed group of talented individuals on things that make a tremendous difference to the health of our community."
Morrison holds a Bachelor of Science Degree in Health Information Management from Temple University and a Master of Science Degree in Business Administration from Monmouth University. She lives in Egg Harbor Township with her sons Eric, 14, and Michael, 21.