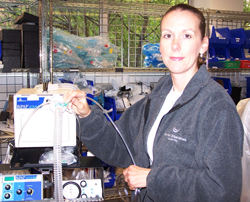 The ability to display courage and compassion while responding to others in distress have earned Donna Monteith the honor of being named Shore Memorial Hospital's September Employee of the Month.
Monteith, a respiratory therapist, was working her regular night shift when a vacationing woman, Dolores Lynch, called her department panic stricken. Lynch was in need of equipment for a travel size continuous positive airway pressure machine (CPAP) that her husband uses while sleeping. Thankfully, Monteith provided them with the equipment needed to keep the machine running properly. In addition, she was able to help calm Lynch and explained to her how to use the equipment.
"This machine is something my husband has to use all the time. Donna helped make a beautiful experience out of something that could have turned very sour. She certainly was a lifesaver. I'm not afraid to travel now because I know there are people out there like Donna," says Lynch.
On being selected as Employee of the Month, Monteith was humble but grateful for the nomination. "We are here to help people. I was just doing my job, but I do appreciate the recognition," Monteith says. She advises her coworkers to treat others as you would want to be treated.
An area native Monteith lives in Absecon with her husband Michael and children Adam and Evan. She began her career at Shore Memorial in 1984 as a secretary in the respiratory department. After receiving her degree in respiratory therapy from the University of Medicine and Dentistry of New Jersey in 1993, she moved to her current position as respiratory therapist. In her free time she enjoys gardening, camping and traveling.