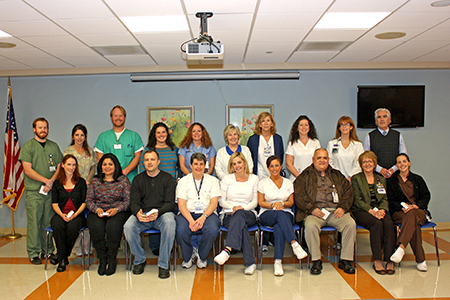 More than 30 Shore Medical Center physicians, nurses and caregivers were recognized for their compassion and commitment to providing exceptional patient care during the medical center's 7th annual Guardian Angel Pinning Ceremony, held on December 5, 2013.
In front of their families, friends, co-workers and the grateful patients who recognized them, award recipients were presented with special Guardian Angel pins to wear in honor of their outstanding service. The Shore Medical Center Foundation's Guardian Angel Program was founded in 2007, and provides patients, their families, friends or co-workers an easy way to pay tribute to their caregiver, while at the same time supporting Shore's mission to provide the best patient-centered care in the region.
The Guardian Angel Program is one of many that illustrate Shore's passion for providing superior care to members of the community. Earlier this year, the medical center was recognized by the international Planetree Organization as the first and only hospital in New Jersey to be formally designated as a "Planetree Designated® Patient-Centered Hospital." This designation recognizes Shore's achievement and innovation in the delivery of patient-centered care. Shore Medical is one of less than 50 healthcare organizations worldwide to receive the Patient-Centered Designation since the program's launch in 2007.
To honor a Shore Medical Center Guardian Angel, please contact the Shore Medical Center Foundation at 609-653-3800 or www.GiveToShore.org.
Pictured:
Front Row, left to right: Julie Hardin, RN, of Swainton, NJ; Jackie Gomez, of Egg Harbor Township, NJ; David Gittle, RN, of Galloway Township, NJ; Ralph Perna, RN, of Hammonton, NJ; Cathleen Hernandez, RN, of Sicklerville, NJ; Angel Simpkins, RN, of Somers Point, NJ; Fernando Perez, of Somers Point; Anne Marie Taggart, MSN, RN, NE-BC, CBCN, OCN, of Pomona, NJ; Jennifer Popa, of Egg Harbor City, NJ. Back Row, left to right: Peter Luce, of Egg Harbor Township; Robin Royer, of Egg Harbor Township; John Hanlon, RN, of Egg Harbor Township; Sarah Foltz, RN, of Northfield, NJ; Tracey Ponzio, of Manahawkin, NJ; Colleen Beaver, RN, of Egg Harbor Township; Maggie Corcoran, of Egg Harbor Township; Laura Freire, RN, of Mays Landing, NJ; Eileen Stephens, RN, of Seaville, NJ; Dr. William Hooper, of Ocean City, NJ.
Not Pictured: Iliana Arroyo, RN, of Egg Harbor City; Amimarie Breunig, RN, of Marmora, NJ; Alice Camp, RN, of Egg Harbor City; Christina Carman, RN, of Stratford, NJ; Mary Ann Gacayan, RN, of Egg Harbor Township; Tracey Guilfoy, RN, of Linden, VA; Ruth Harkins, RN, of Absecon, NJ; Kimberly Kaczmarski, of Seaville; Pauline Liepe, of Mays Landing; Dr. Bennett Ojserkis, of Linwood, NJ; Alyson Raychart, RN, BSN, of Absecon; Dr. Robert Sabo, of Margate, NJ; Cindy Wooden, of Egg Harbor Township.