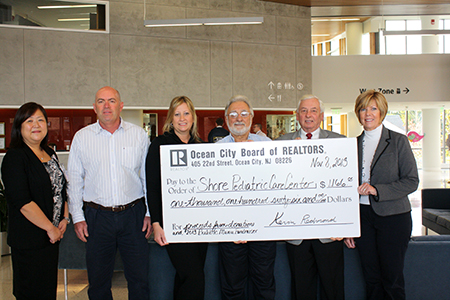 Continuing their commitment to support the pediatric programs at Shore Medical Center, the Ocean City Board of Realtors presented the Maternity and Pediatrics Department with a donation of $1,100 on November 8, 2013.
The funds were generated through the Board of Realtors' annual "Bubble Mania" fundraiser and other efforts by Berger Realty in Ocean City, NJ. The donation will be used to purchase two pieces of equipment for the maternity and pediatrics unit: A kangaroo chair, which promotes skin-to-skin contact between parents and newborns; and a device that rocks newborns while playing music to provide soothing stimulation.
Shore's Maternity and Pediatrics Department is one of the medical center's six Centers of Excellence, where sspecial attention is paid to helping pregnant mothers and new families develop and maintain those early bonds. From pre-natal to pediatric care, every resource at Shore is focused on your child's well-being, comfort and rapid healing. Shore's groundbreaking, kid-friendly Pediatric Care Center was the first of its kind in the state of New Jersey, featuring a dedicated and separate pediatric treatment area for minor illnesses and injuries, as well as inpatient rooms. The Maternity and Pediatrics unit and Pediatric Care Center are staffed by the expert neonatologists of Onsite Neonatal Partners.
To learn more about Shore Medical Center, call 609-653-3500.

Pictured: The Ocean City Board of Realtors donated more than $1,000 to Shore Medical Center's Maternity and Pediatrics Department, which will be used to purchase equipment for the unit. Pictured, from left, are Nurse Manager Jeong Leon, MSN, MHA, RNC-OB, EFM-C; Ken Sedberry of Marmora, NJ; Maria Marinelli of Margate, NJ; Nick Marotta of Ocean City, NJ; David Carter of Marmora; and Administrative Director Karen Sharkey, RN, MBA, NE-BC.