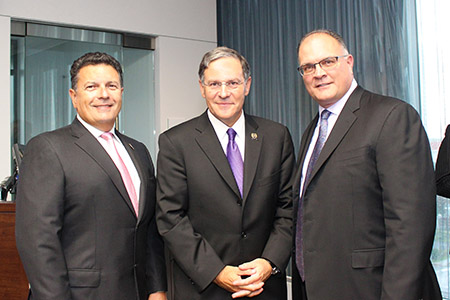 Pictured left to right are Assemblyman Sam Fiocchi, Jon Bramnick and Shore's President and CEO Ron Johnson.
Shore Medical Center welcomed 100 local business, community and civic leaders to its Fall Executive Leadership Forum on Wednesday, October 15. The event was hosted by Shore's President & Chief Executive Officer Ron Johnson. Featured speaker Assembly Minority Leader Jon Bramnick discussed key issues affecting the State and local community, including property taxes, charity care, and the future of Atlantic City. 
When asked about what items are top on his list in health care, Bramnick responded, "The long term concern I have is ensuring people have enough quality care in America. People have always come to the United States for quality care, and that has to be the main goal. I am hopeful that no other hospitals will have to be closed."
The event was held in the Board Room located on the 4th floor of the Surgical Pavilion. The Executive Leadership Forum takes place twice a year at Shore, giving invited guests the opportunity to meet and network with key leaders and decision makers.