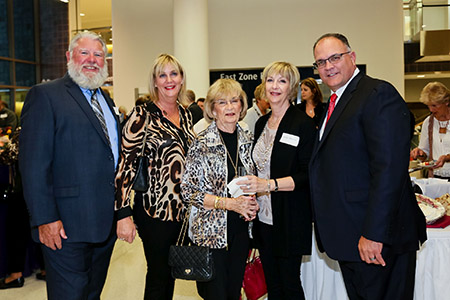 Pictured: Donors enjoyed an evening with Shore President and CEO Ron Johnson at Shore Medical Center's President's Thank You Reception October 8 in the Ben and Flora Baker Surgical Pavilion Lobby.  Pictured left to right are Dave Beyel, System Board Chair, of Marmora, Lynn McIntyre of Ocean City, Marie McIntyre of Ocean City, Sandy Ummarino of Marmora, and Ron Johnson, President and CEO, of Mays Landing.
More than 100 donors were invited to Shore Medical Center for a President's Thank You Reception on Wednesday, October 8.  Guests spent an evening with Shore leadership and listened as President and CEO Ron Johnson expressed his gratitude to Shore's donors, explaining how their support has led to a number of recent and upcoming healthcare initiatives at Shore.
The Shore Medical Center Foundation mobilizes philanthropic support for Shore Medical Center through a variety of Annual Giving, Major Gifts and Planned Giving Programs. The Foundation provides individuals, groups and businesses with the opportunity to help fund the state-of-the-art healthcare resources and services that Shore provides to the community through gifts ranging from small cash donations to major estate bequests.
For more information about the Shore Medical Center Foundation, please call 609-653-3800 or visit GiveToShore.org.