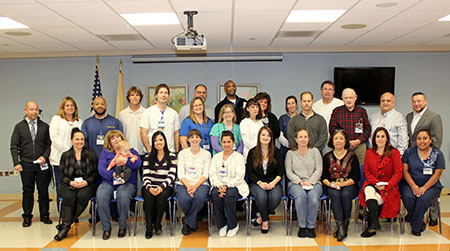 Shore Medical Center (SMC) recognized 40 physicians, nurses and caregivers for their compassion and commitment to providing exceptional patient care during the medical center's 8th annual Guardian Angel Pinning Ceremony, held on December 4, 2014.
Guardian Angels are nominated by a patient or their family for exceptional care provided during their hospital stay. In front of their families, friends, co-workers and the grateful patients who recognized them, award recipients were presented with special Guardian Angel pins to wear in honor of their outstanding service. The Shore Medical Center Foundation's Guardian Angel Program was founded in 2007, and provides patients, their families and friends with an easy way to pay tribute to their caregiver, while at the same time supporting SMC's mission to provide the best patient-centered care in the region.
The Guardian Angel Program is one of many that illustrate SMC's passion for providing superior care to members of the community. In 2013, SMC was the first and only hospital in New Jersey to be formally recognized as a "Planetree Designated® Patient-Centered Hospital" by the international Planetree Organization. This designation recognizes Shore's achievement and innovation in the delivery of patient centered care. SMC is one of 62 healthcare organizations worldwide to receive the Patient-Centered Designation since the program's launch in 2007.
Patients and their family members who would like to honor a Shore Medical Center Guardian Angel in the future should contact the Shore Medical Center Foundation at 609-653-3800.
Pictured: 1st Row: (seated L to R) Kelly Filer, Waterford Township; Connie Cox, Petersburg; Ami Breunig, Egg Harbor Township; Lauren Mekelburg, Williamstown; Mary Mae Tan, Mays Landing; Valerie Guilfoy, Galloway; Amy Foster, Egg Harbor City; Mimi Ikalina, Somers Point; Jeneen Luma, Egg Harbor Township; and Olivia Miguel, Somers Point. Back Row (L to R) Joe Rodriquez, Vineland; Diane Ross, Somers Point; Ron Reed, Egg Harbor Township; Jason Levy, Margate; John Catalano, Williamstown; Misty Carpenter, Egg Harbor Township; Ron Johnson, SMC President & CEO; Susan Walsh, Ocean City; Lonnie Hackney, Somers Point; Barbara Hunter, Petersburg; Kris Liwoch, Egg Harbor Township; Veronica Mancuso, Mays Landing; Craig Mericle, Cape May Court House; John Marr, Galloway; Bob Foster, Ocean City; Fernando Perez, Somers Point; and Salvador Rodriquez, Mays Landing. Not Pictured: Maggie Corcoran, Egg Harbor Township; Laura Freire, Mays Landing; Gina Gibonni, Somers Point; Jessica Hober, Cape May; Jacklynn Irwin, West Creek; Terry Lothian, Ocean City; Jennifer Marshall, Egg Harbor Township; Pat Otaegui, Egg Harbor Township; Joanna Pawliczuk, Northfield; Zachary Post; Stephanie Raychert, Somers Point; Althea Santos-Duna, Egg Harbor Township; Lynn Suarez, Mays Landing; Judy Wastell, Bridgeton.