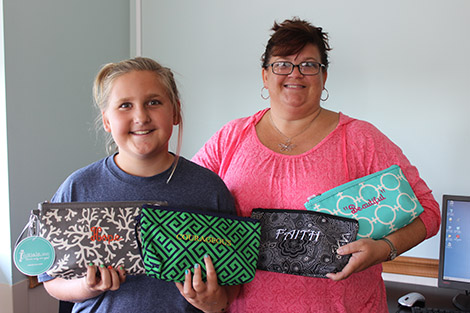 Melissa Sandhoff understands the pain brought on by a cancer diagnosis.  In a six-month period two years ago, she lost her father to leukemia, her mother-in-law to lung cancer and her father-in-law to non-Hodgkin's lymphoma.  Recently, she brought a little light to Shore Medical Center cancer patients.
Sandhoff and her 12-year-old daughter Hope, of Villas, Lower Township, NJ, donated special gift bags for chemotherapy patients at the medical center.  Each bag is embroidered with a message of empowerment such as "Hope," "Laughter" and "Courage."  They are filled with personal hygiene supplies that patients might find useful during treatment.
"Because my family has endured so much sadness as a result of cancer, I wanted to do something for other people in similar situations," Sandhoff said.  "It's important to offer them comfort, support and encouragement as they battle this disease."
Earlier this summer, Sandhoff learned of similar efforts taking place across the country and decided to implement the project locally.  The bags will be given to cancer patients on Shore's 5th Hayes unit, where Nurse Manager Kelly Duma, RN, BSN, NE-BC, said the Sandhoffs' generosity will make a tremendous impact on patients' experience at the medical center.
"At a point in their lives when they are at their most vulnerable, this donation will boost our patients' spirits and show them that they are not alone," Duma said.  "I can't say enough about Melissa and Hope's selflessness, and the impact they are making in the lives of our cancer patients."
To make a bag donation or for more information, please visit www.Myinitials-inc.com/melissaandhoff or email BreezyBayBags@gmail.com.
Pictured Above:  Melissa Sandhoff, right, and her daughter Hope, 12, of Villas, Lower Township, NJ, donated gift bags to Shore Medical Center cancer patients on Wednesday, Aug. 26, 2015.  Each bag contains personal hygiene items patients can use during their treatment.