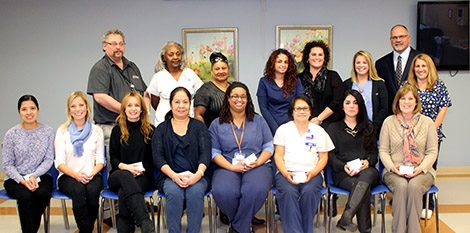 Seated (L-R): Amimarie Breunig (Egg Harbor Twp), Cathleen Sellitsch (Brigantine), Carmen Bradley (Linwood), Liza Gabisch (Egg Harbor Twp), Vankeisha Kitchen (Pleasantville), Emelinda Lipa (Egg Harbor Twp), Kemberly Rodriguez (Atlantic City), Lisa Williams (Cape May Court House); Standing (L-R):  David Garth (Somers Point), Elaine Toolsie (Egg Harbor Twp), Sandy Johnson (Pleasantville), Jessica Santos (Mays Landing), Jenell Lee (Egg Harbor Twp), Danielle Flukey (Marmora), Ron Johnson Pres/CEO, Stephanie Dechen (Vineland) Not Pictured: Andrew Lauriello, Benjamin D'aulerio, Dr. Bill Schumacher, Jennifer Brooks, Dr. Keith Grim, Wendy Flores and Lloyd Crawley
Shore Medical Center recognized 22 physicians, nurses and caregivers for their compassion and commitment to providing exceptional patient care during the medical center's 9th annual Guardian Angel Pinning Ceremony, held on December 3, 2015.
Guardian Angels are nominated by a patient or their family for exceptional care provided during their hospital stay. In front of their families, friends, co-workers and the grateful patients who recognized them, award recipients were presented with special Guardian Angel pins to wear in honor of their outstanding service. The Shore Medical Center Foundation's Guardian Angel Program was founded in 2007, and provides patients, their families and friends with an easy way to pay tribute to their caregiver, while at the same time supporting SMC's mission to provide the best patient-centered care in the region.
The Guardian Angel Program is one of many that illustrate Shore's passion for providing superior care to members of the community. In 2013, Shore was the first and only hospital in New Jersey to be formally recognized as a "Planetree Designated® Patient-Centered Hospital" by the international Planetree Organization. This designation recognizes Shore's achievement and innovation in the delivery of patient centered care. SMC is one of 76 healthcare organizations worldwide to receive the Patient-Centered Designation since the program's launch in 2007.
Patients and their family members who would like to honor a Shore Medical Center Guardian Angel in the future should contact the Shore Medical Center Foundation at 609-653-3800.