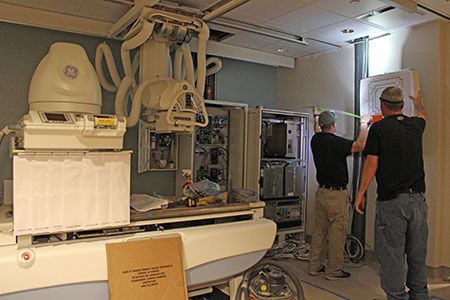 Pictured above: Workers set up a PET/CT Scan machine at Advanced Shore Imaging Associates, located at 2605 Shore Road in Northfield.
Construction Underway of New Imaging Center and Penn Physician Offices
Shore Medical Center, which currently employs approximately 1,700 directly and indirectly, announced today that it is bringing more high paying jobs to Atlantic County through two projects: Advanced Shore Imaging Associates (ASIA), located at 2605 Shore Road in Northfield, NJ, and new Penn physician offices at Shore's Medical Office Building. In addition to providing long-term employment, these projects have provided 75 jobs related to the construction. Many of the jobs related to the construction of ASIA are union, and 100% of the jobs related to the Penn project are union. ASIA is scheduled to open in early 2016. Penn physicians will begin seeing patients at Shore by March 2016.

Both projects are a result of Shore's commitment to finding partners to provide all or a large portion of the funding. Although Atlantic County's economy continues to decline due to casino layoffs, Shore has risen to the challenge for the betterment of its community. ASIA was able to secure its funding by working with Shore's Chief Financial Officer, David Hughes, who negotiated favorable financing on their behalf. Hughes reached a first-of-its-kind deal with GE for GE to fund this project. Prior to ASIA, GE had never done this type of financial structuring for an imaging center. Penn Medicine is funding 100 percent of the build out of the third floor of Shore's Medical Office Building.

"Shore's commitment to providing quality health care to our community has never been stronger," said Ron Johnson, Chief Executive Officer of Shore Medical Center. "We have great partners who believe in investing in our region, and the new imaging center and our partnership with Penn will give our patients even greater access to the area's best treatments and services."

"As one of the largest employers in the area, we take our responsibility of keeping the local economy healthy very seriously," said David Hughes, Chief Financial Officer of Shore Medical Center. "Despite the cuts in charity care dollars to Shore, the increase in need for uncompensated care, and the poor local economy, we are a stable organization - but we aren't in the position to subsidize. We are, however, very aggressive in finding partners and leveraging relationships to bring these much needed resources to our community.

"These projects provide jobs that pay very well and provide great opportunity for families in our area who are hurting right now," continued Hughes. "We worked with the trades on the construction related jobs, and we thank these highly skilled craftsmen for their hard work and expertise on these projects."

ASIA will be the region's leading-edge, multi-modality medical imaging center. Located in Northfield, New Jersey, the center will offer a comprehensive range of diagnostic imaging and image guided procedures. The philosophy is to bring together state-of-the-art equipment, the most qualified radiologists, and superior customer service for referring physicians and their patients. The Shore name is known for uncompromising commitment to advanced patient care.

The imaging center will be staffed by board certified, fellowship trained, sub-specialty radiologists and a highly skilled clinical team. Advanced Shore Imaging Associates will employ the latest transformational medical technologies from GE Healthcare, including:

General Imaging
The newest MRI technologies, including Wide Bore MRI scanners, are quiet and ideal for claustrophobic and large-stature patients.
CT
PET/CT
X-ray/ Fluoroscopy
Ultrasound
Women's Imaging
3D "low dose" Tomosynthesis
Mammograms
Stereotactic Breast Biopsies
DEXA Scans
OB/GYN Ultrasounds
Senobright - Contrast enhanced mammograms. The only one in the region.
The region's only imaging center with zero-radiation ABVS (Breast) Scanning
For more information visit www.AdvancedShoreImagingAssociates.com.
The partnership between Shore and Penn will bring Penn Medicine physicians to Shore Medical Center from a variety of disciplines that were previously unavailable to the local community.  Their offices will be located on the third floor of Shore's Medical Office Building, across from the hospital. Specialties will include Dermatology, Complex Orthopedics (foot, ankle), Spine Deformity, and Gynecological Oncology.