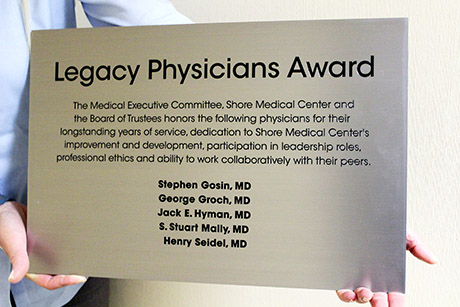 For more than 75 years, Shore Medical Center's dedicated physicians have committed their professional lives to serving our community. Their compassion, leadership and vision have helped shape the organization Shore is today. On Tuesday, December 8, five physicians who have made a significant mark over the course of Shore's history were honored at a special ceremony with a Legacy Physicians Award, presented by members of Shore's Medical Executive Committee.  These physicians are:
Dr. Stephen Gosin, a general and vascular surgeon who was instrumental in developing Shore's vascular surgery program and started the vascular non-invasive laboratory.  Dr. Gosin served as president of Shore's medical staff. 
Dr. George Groch, an internist and hematologist who developed Shore's internal medicine program.  Dr. Groch served as president of Shore's medical staff. 
Dr. Jack Hyman (posthumous), a pulmonologist who developed Shore's respiratory and pulmonary care team and was a very active member of Shore's Board of Trustees. 
Dr. Stuart Mally (posthumous), a general surgeon who was instrumental in bringing general and trauma surgery at Shore into the 20th century.  Dr. Mally was also president of Shore's medical staff
Dr. Henry Seidel (posthumous), a pathologist who developed two different laboratory facilities, including Shore's current lab, throughout his tenure. Dr. Seidel made Shore's lab a modern testing facility with rapid access to lab results.  Dr. Seidel was also president of Shore's medical staff.
Physicians were selected based on their years of service, dedication to the Medical Center's improvement and development, participation in leadership roles, professional ethics and ability to work collaboratively with their peers.

Dr. Howard Karp, chairman of the Department of Medicine, presented the awards to the physicians or their loved ones, stating, "Each of our Legacy Physicians Award recipients were devoted physicians who gave at least 40 years of service to Shore and to our community. They advanced medicine at the hospital through their leadership, innovation and commitment to providing our community with access to the most current equipment and procedures.  We owe a debt to these physicians for what they brought to this hospital and to the community." 

More than 60 guests were in attendance, including physicians, family members of the award recipients, members of Shore's Board of Trustees and Senior Leadership Team.