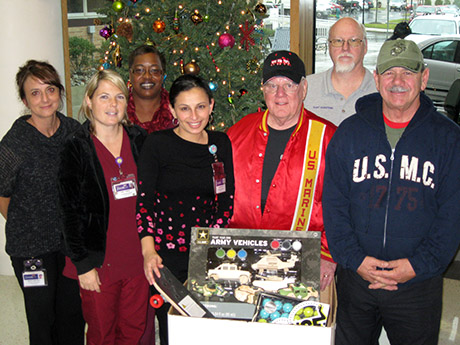 Pictured above:  Shore employees pose with Joseph Patrick and Joe Ballentine from the Marine Corps Reserves on the final pick up of Shore's Toys for Tots donations. Pictured left to right are Krissy Amarando, Jaime Bowen, Edna Keels and Laura Harvey of Shore's Access Management Department; Joseph Patrick; Steve Wilson, Plant Operations; and Joe Ballentine.
When Mike Smith started working at Shore Medical Center as Administrative Director of Revenue Cycle over a year and a half ago, he knew right away he was surrounded by some of the most generous and compassionate people he'd ever met. Fast forward to today, and Mike couldn't be more certain about that.

Smith took over Shore Medical Center's Toys for Tots collection campaign at the hospital this year after the previous coordinator left the organization. A strong supporter of veterans' initiatives and a father himself, Smith was especially touched by the mission of Toys for Tots, organized by the U.S. Marine Corps Reserves with a mission of collecting new toys for underprivileged children at Christmas.

The campaign began as a Revenue Cycle initiative, but quickly grew, with Accounts Payable, Payroll, Finance, Plant Operations, HIMS, Patient Financial Services, Patient Access, Central Scheduling and other departments all chipping in to donate new toys for underprivileged children in Atlantic, Ocean and Cape May counties.
"We began collecting toys shortly after Thanksgiving and had until December 18th to collect. But then we found out 1,000 more families were added to the needs list, and everyone stepped up to the plate.  People who had already donated went out and bought more toys. Plant Operations collected several hundred dollars in cash to buy more toys.We filled several toy bins two and even three times, requiring many pick-ups from the Marine Corps League volunteers," Smith said. "This project really took on a life of its own and proved what I already know - that all of the folks that work at Shore truly care about our community."