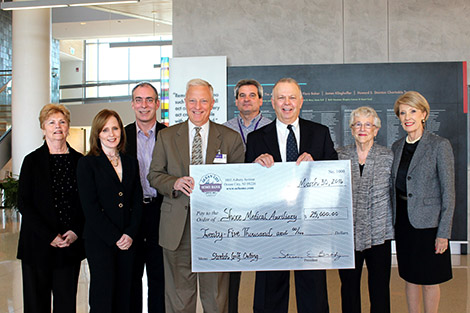 On Wednesday, March 30, Ocean City Home Bank donated $25,000 to the Auxiliary of Shore Medical Center for the 62nd Annual D. Allen Stretch Golf Tournament. 
Ocean City Home Bank serves as the major sponsor for this year's event, which will take place on Wednesday, June 8, 2016, at Greate Bay Country Club in Somers Point, NJ. The annual tournament is named in honor of former Shore Medical Center board member and local businessman D. Allen Stretch. 
Sponsorship opportunities for the event are still available. For more information or to register to attend the tournament, please contact the Shore Medical Center Auxiliary at 609-653-4646. 
The Auxiliary of Shore Medical Center is Shore's original fundraising organization. Part of the Shore Medical Center Foundation, the Auxiliary is made up of dedicated volunteers who work throughout the year on initiatives that include the hospital gift shop, thrift shops in Somers Point and Marmora, golf tournaments and other community events.
Pictured above (left to right): Barbara Harper, Auxilian; Tricia Ciliberto, OCHB; Bob Robertson, SMC Administrative Director of Logistics;  Alan Beatty, SMC Vice President of Human Resources; Brad Foltz, SMC Director of Plant Operations, Steve Brady, OCHB; LaRue Frick, Auxilian; Jean Jacobson, OCHB