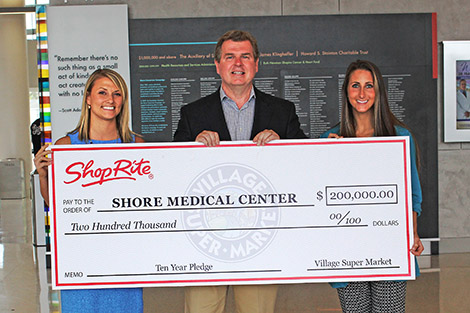 ShopRite's Amanda Fischer, Director of Business Relations, and Ciara Beck, Registered Dietitian presented a check for $200,000 today to Shore Medical Center's Chief Financial Officer David Hughes. This check represents ShopRite's 10-year pledge to Shore Medical Center from 2007-2017.
"ShopRite's commitment to Shore Medical Center and the entire Somers Point community is incredible," said David Hughes, Chief Financial Officer for Shore Medical Center. "We are so grateful for the generous support that ShopRite has given to Shore in support of our mission to provide the best care to our patients and families."
In addition to the financial donation, ShopRite has supported Shore Medical Center through a number of initiatives. All new mothers at Shore receive a $15 coupon toward their first on line order of $150 or more.  ShopRite of Somers Point and Marmora also offer free recipes and dietary tips to members of Shore's Wellness program. These recipes and tips are available at http://shoremedicalcenter.org/months-wellness-offers . ShopRite has also participated in and provided speakers for Shore's popular monthly "Senior Social" events.
Above: Pictured left to right is Amanda Fischer, ShopRite Director of Business Relations, David Hughes, Shore Medical Center Chief Financial Officer, and Ciara Beck, ShopRite of Somers Point Registered Dietitian.