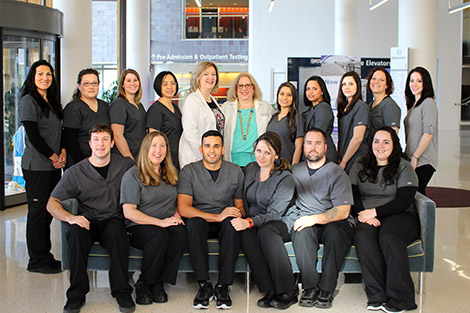 On June 2, Shore Medical Center's School of Radiologic Technology graduated 14 students during a ceremony at Greate Bay Country Club in Somers Point, NJ.
Following completion of the full-time, two-year program, students receive a certificate in Radiologic Technology and are eligible to apply for the National American Registry of Radiologic Technologists Examination and for state licensure.
Also, through the school's partnership with Atlantic Cape Community College two students, Katherin Abadia-Salgado, of Manahawkin, and Jessica Bereheiko, of Galloway, received their Associates Degree in Radiologic Technology.
During the ceremony, Joanna Patroni, of Cape May, was awarded the Outstanding Clinical Performance Award. Each year a student who has performed exceptional patient care and shown outstanding knowledge in the clinical portion of the program is selected to receive this award. Joanna also received the Outstanding Academic Achievement Award for having the highest grade point average in the graduating class.
For more information about Shore's School of Radiologic Technology, visit www.ShoreMedicalCenter.org/radiologyschool. 
Pictured Above: Front Row (Left to Right): Benjamin Del Corio, of Swainton, NJ; Ashley McGuigan, of Ocean City, NJ; Ethan Campbell, of Hammonton, NJ; Ekaterina Shelepova, of Atlantic City, NJ; Jason Rosegren, of Mays Landing, NJ; Victoria Frucelli, of Somers Point, NJ; Back Row (Left to Right): Angela Pezzetta, of Absecon, NJ; Stefaniya Gerganova, of Egg Harbor Township, NJ; Jordan Borgese, of Millville, NJ; Qiao Du, of Atlantic City, NJ; Gail Faig, Acting Program Director, Radiology School; Merryl Fulmer, Program Director Emeritus, Radiology School; Katherin Abadia-Salgado, of Manahawkin, NJ; Johanny DeJesus of Egg Harbor Township, NJ; Joanna Patroni, of Cape May, NJ; Jessica Bereheiko, of Galloway, NJ; Kristin Dennis, Coordinator, Radiology School