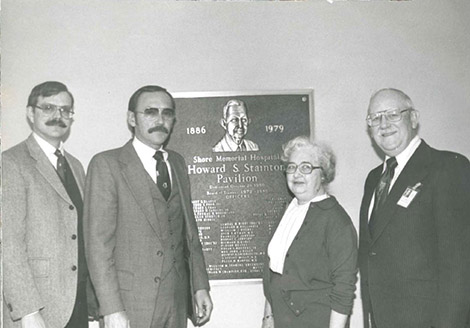 If there's one person who can speak about the changes at Shore Medical Center over the last 43 years, it's Art Ford, III, Esq (2nd from the left pictured above). As a land use attorney and member of Shore's board of directors since 1973, Ford has helped shape medical progress and the delivery of healthcare within the hospital walls and through expansions outside its borders.  
Although Ford was born in Somers Point and graduated from Ocean City High School, much of his childhood and, later, early adulthood was spent out of state. His father was a special agent with the FBI, so his family moved around. After high school, he enlisted in the Air Force as a flight line mechanic and then attended American University for undergraduate and law school in Washington, D.C.  Before coming back to Somers Point in 1969, Ford made the decision to move back home to get away from the big city hustle.
"Coming to the Ocean City area in the winter from D.C. was like being coughed out of a giant machine," Ford remarked. The difference was stark, but he got used to it quickly.
A few years later, Ford was invited to join the board by two major players of Shore Medical Center history – Joe DiOrio and D. Allen Stretch.
"I was considered a 'local yokel' despite being away for some time.  My father had been on the board, and I had experience they needed," Ford recalls. "At the time, the board was in the process of designing and building the Stainton Pavilion, which would add critical care, intensive care, post-intensive care and coronary care units. It opened in 1976 and added 45 more beds in addition to those vital services."
Over the years, Ford provided his services to Shore pro bono, amounting to an estimated $200,000 in donated services for over 35 various projects.
"I worked on all the development approvals at the local municipal, county and state levels, starting with the Dialysis Center on Shore Road, administrative office expansion, Hamilton Township Industrial Park, White Building, the conversions of the church to the finance office and the bank property to the Women's Center, Bay Avenue improvement, Meadow Brook Mall conversion to Shore Health Park, nursing home renovation, women's conference center, chapel, Hayes Tower, two emergency department expansions, cardiac care, street vacating by Somers Point and Atlantic County and various campus parking lots and signage. We were always responding to a community need with every move," Ford said.  
"In the earlier years, there was a huge demand for more patient beds because hospital stays were longer.  You'd find four to six patients in a room in the original building.  We had to grow to serve the healthcare needs of the community."
"Because of the unique location of the hospital with the bay on one side and Shore Road on the other, we were landlocked, surrounded by properties owned by others. As properties around the hospital became available, we purchased them because we thought we'd need them for future expansion," Ford said.   "When the Hayes Tower opened in 1984, it brought the total number of beds to 380 – far more than the 296 beds we have today.  We've sold or repurposed many of the properties we bought in the early days because we just don't need the kind of space we thought we would," Ford said.
Times were very different back then for the board as well, Ford noted. "The board room was like long tunnel with a low ceiling on the second floor. Everyone smoked, so by the end of the meeting you couldn't see the people at the other end of the room," he chuckled.  "Board meetings would often last from dinner until 10 pm to midnight at times. Each committee chair would read his report verbatim – it took a long time."  
Ford has given so much of his personal time and talent to the hospital, but he doesn't regret a single minute.
"I think one of the most fulfilling things you can do is serve your community hospital," Ford reflected. "I get tremendous personal satisfaction from my time on the board and from seeing my little contribution to the big picture. So much has changed at Shore over the years, and I'm honored to have helped bring it along through the evolution of medicine and the changes in healthcare and our economy."
Ford is quick to note that while Shore has always been a good hospital, it's the people who really make it such a great place.  "We've always made it a priority to invest in technology we can afford, but it's the people that operate it and care for the patients that make Shore a good hospital. Our hospital is a caring hospital, it's our culture."
Pictured above: Board member Art Ford, second from left, at the dedication of the Stainton Pavilion in 1979.  Pictured also is Rick Pitman, left, Jeanette Corson and D. Allen Stretch.