South Jersey's First Cancer For Lung Nodule Evaluation& Treatment
The Need to Find, Monitor & Diagnose Lung Nodules and Other Lung Lesions
The increased use of CT scans has led to a growing number of people being diagnosed with tiny lesions - or nodules - in their lungs. While more than 90 percent are harmless, these nodules need to be carefully evaluated because they might be early cancers. The problem is that many patients are undergoing unnecessary invasive procedures and experiencing concern for potentially benign findings.
Fast, Convenient & Comprehensive Evaluation and Treatment
Shore's Advanced Pulmonary Diagnostic Center offers a one-stop setting designed to provide you with a fast, convenient and comprehensive way to have lung nodules and other lesions evaluated or monitored optimally and with state-of-the-art skills and technology. We also provide expedited services in giving a timely diagnosis and treatment approach for those with lung cancer.
Under the direction of leading area pulmonologist Dr. Bennett Ojserkis, we have brought together the region's most passionate and highly skilled pulmonary team. Every patient receives thorough testing and consultation to determine their best course of action, thereby minimizing unnecessary medical or surgical procedures.
Our Services Include:
Examination of patient by a pulmonologist skilled in advanced diagnostic procedures
Complete evaluation, diagnosis and treatment recommendations 
Management and follow-up visits
Ongoing communication with referring physicians
Patient education
Coordination of care with a multidisciplinary team of experts

Pulmonologists
Thoracic Surgeon
Diagnostic Radiologists
Medical Oncologists
Radiation Oncologists
Pathologists
Oncology Certified Nurses
Smoking Cessation Counselor
Respiratory Therapists
Pulmonary Rehabilitation Therapists 
Dietitian
Social Worker
Nurse Navigators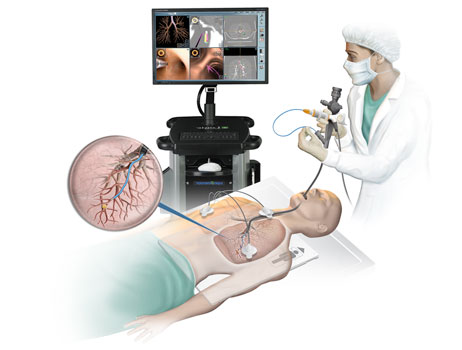 State-of-the-Art Technology
Using, amongst other techniques, Electromagnetic Navigation Bronchoscopy and Endobronchial Ultrasound, we provide you with access to the most advanced diagnostic technology available today.
For more information
To learn about Shore's Advanced Pulmonary Diagnostic Center, or to make an appointment, please call 609-653-3467