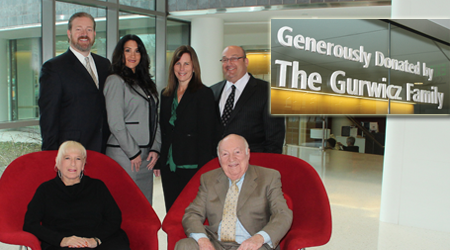 Most definitions tell us that philanthropy must be more than just a charitable donation; it is an effort that must be undertaken based on an altruistic desire to improve human welfare.
By this definition, the Gurwicz Family – parents Ed and Bonnie, sons Joseph and Mitchell and daughters-in-law Kathy and Diana – is the family portrait of giving. They donate both their time and money to a host of worthwhile organizations throughout the region, and neither seek out nor want recognition. When it comes to the role they have played in helping Shore Medical Center blossom into a leading regional healthcare provider, they are simply "honored to be a part of Shore's growth" and will tell you "they have in no way played a more integral role than the thousands of people who have supported Shore."
While this selfless point of view is at the heart of true philanthropy, when it comes to Shore Medical Center, the Gurwicz Family's record of giving paints quite a different picture.
Ed and Bonnie have a history that dates back to joining the Stainton Society in 1993. Throughout the years, they have generously supported all of Shore's major campaigns, including the Millennium, Legacy and Shore Tomorrow Campaigns, the latter providing the funds needed to help construct Shore's state-of-the-art Surgical Pavilion and Campus Expansion.
"My father and grandparents were immigrants, and through their experiences they developed a sense of how important it is to give back to the community," said Mitchell. "Going back in history, our family has been in business and a part of the  community for 60 years. Throughout that time, we have looked for opportunities to contribute."
There are a number of things that are special about the Gurwicz Family's philanthropic relationship with Shore Medical Center and its Foundation. Beyond hosting the D. Allen Stretch Memorial Golf Tournament at their Harbor Pines Golf Course for the last 15 years, Joe and Mitchell have each found ways to give as generously of their time as they do with their finances. Joe was a member of the Shore Enterprise Board in the mid 2000's. Mitchell, who was recruited to serve on the Foundation Board when it was formed in 2005, just completed an unprecedented three years as its Chairman.
It is no longer a given that the next generation will support what the previous generation did," said Mitchell. "Our family is a hybrid in that we will continue our legacy of giving if we can modify our support and make it meaningful. That has been easy to do with Shore, given the new Surgical Pavilion, the access they provide to leading physicians and their outstanding pediatrics program.
"As a family we believe it's important to have a strong, regional medical center within the community," he continued. "Shore has been there for us, and hopefully will be there for our kids."
Mitchell points to his mother's two recent hip replacement surgeries, both in terms of the convenient access to excellent surgeons from the Rothman Institute and the support she and the family received from the Lightkeeper's Society, as perfect examples of ways Shore excels in what it provides right here in our community.
Expanding on the Lightkeeper's Society, Mitchell explained, "No matter who you are or what your situation, you always need an advocate in today's healthcare system. Shore's Lightkeeper's Society has certainly proven to be that."