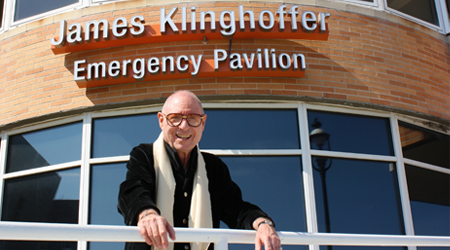 Engaging in conversation with Jim Klinghoffer is truly a treat. He speaks lovingly about his parents; longingly about the America he grew up in; eloquently about the golden era of motion pictures; and intellectually about the world in which we all live. You can get Jim to speak about almost any subject, except Jim Klinghoffer.
Philanthropy isn't something Jim Klinghoffer does. It's who he is. Jim's passion for giving was kindled by his parents, Harry and Edith Klinghoffer, who encouraged him to pay his success forward to help others.
"I give because my parents were very charitable people and they instilled that value in me," he said. "What brought me to Shore was the recognition that these are dedicated people who deal in life and death every day. They have a special calling that not everyone in life gets."
Jim was born in 1940 in Asbury Park, the city where his parents met. His father, who was born in Newark, and mother, who escaped Nazi Germany in 1936, moved the family to Lancaster, PA. shortly thereafter, to pursue an opportunity in the newspaper distribution business. In doing so, Jim will tell you that they left behind the comfort of family and their neighborhood, a move that took both character and courage.
Following World War II, Jim's father expanded his business to Atlantic City. When their extended family would not leave their comfort zone and join the business in Lancaster, Jim's father traded that portion of the business in return for a distributorship in Newark, which he eventually parlayed into a business that stretched up and down the east coast.
For many years, Jim viewed Shore as many did – a small community hospital where little was really happening. But, as he likes to say, "That's really changed over the last few years."
When Shore decided to build a groundbreaking hybrid pediatric unit – the first of its kind in the state of New Jersey – Jim made a major gift to dedicate what is now the Harry and Edith Klinghoffer Pediatric Care Center in his parents' memory.
"I kept the emergency department for myself," he said of the gift to help construct the James Klinghoffer Emergency Pavilion. "Shore's emergency department treats over 46,000 people a year, and that's a lot of people to be able to help. At night, I sometimes park the car outside the hospital. As I stare up at our names on the buildings and watch the ambulances pull in, I'm overwhelmed that my life has brought me to this point. To be able to see what I've done for people who need doctors and nurses and hospitals, well I'm really taken aback."
That little story is about as close as Jim will allow himself in terms of recognition. "I don't want medals, or badges or plaques or dinners," he continued. "I remember one time two weeks before an affair for the medical center, I drove over and just spent time talking to the doctors, nurses and execs. I wanted to be with people I put my money on, so we shared some humor and had a good time for an hour. Then got in my car, went home and never ended up going to the affair."
You will hear people in the community say that, for a man who does so much, you never see Jim Klinghoffer around. While that may be true, it is funny given how much his presence has benefited Shore Medical Center and the health and welfare of the people of South Jersey.