For the fourth year in a row, the Greate Bay Women's Golf Association (GBWGA) stepped up in a big way to help local women who are undergoing cancer treatment at Shore Cancer Center. Through their annual Swing Golf Tournament held Sept. 30 at Greate Bay Country Club, the GBWGA raised $76,500, which they presented to the Auxiliary of Shore Medical Center on Oct. 16. All of the funds raised will go directly to help offset medical expenses of local women battling cancer at Shore Cancer Center.
Sue Webb, chairperson of the Swing Golf Tournament committee, says the GBWGA is thrilled to be able to help women directly.
"We have 74 members in the Greate Bay Women's Golf Association, and each one of us is affected by cancer in some way. We're thrilled that every dollar raised from this tournament goes directly to women in our community in need," Webb says. "Last year we were able to help 18 women get the care they need, without the stress of wondering how they would afford their medical bills. We look forward to helping even more women this year."
All of the GBWGA members are actively involved in helping to make the tournament a success, through cash donations, volunteerism, golfing, and support of the auction. While there is a handful of members who serve on the Swing Tournament Committee, it is the entire GBWGA that makes this event happen.
The Auxiliary of Shore Medical Center is part of the Shore Medical Center Planned Giving and Development Department and is made up of dedicated volunteers who work throughout the year on initiatives that include the hospital gift shop, thrift shops, golf tournaments and other community events. Since the Auxiliary's inception in 1940, the Auxiliary has donated more than $15 million to Shore Medical Center.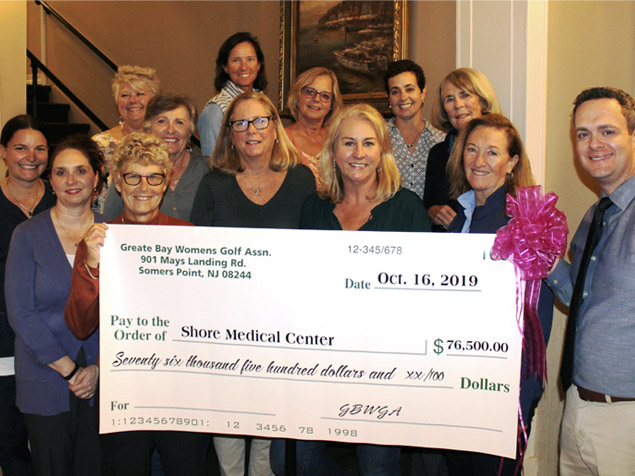 PHOTO CAPTION: Members of the Greate Bay Women's Golf Association (GBWGA) SWING Tournament Committee presented the Auxiliary of Shore Medical Center with a check in the amount of $76,500 on Oct. 16 to directly benefit women with cancer undergoing treatment at Shore Cancer Center. Pictured left to right (front) is Stephanie Raychert, Shore; Angela Bailey, Shore; Sue Webb, Robin Crowley, Liz Mead, and Jane Davis (all GBWGA) and Joe Johnston, Shore. Second row: Paula Koiro, Shore; Marge Levine, GBWGA; Sue Shirk, GBWGA; Brenda Martello, Shore Auxiliary; Lisa Boccabella, Shore; Pat Haughey, GBWGA.