When a patient or family member has an exceptional experience thanks to the actions of a Shore Medical Center caregiver, they have an option to make a donation to Shore in the caregiver's name through its Guardian Angel program. In 2018, a record 77 Guardian Angel recognitions were presented to 66 Shore staff through the program – with some receiving two and even three recognitions from patients throughout the year.
On December 6, these compassionate caregivers were celebrated at the annual Guardian Angel Pinning Ceremony held at Shore, where they received custom designed guardian angel pins for the difference they made. They enjoyed the spotlight while in the presence of their families, colleagues, and friends – and in many cases the patients and families they helped. Guests enjoyed refreshments while watching the Guardian Angels receive their pins from Shore's Chief Nursing and Operations Officer Linda Kenwood. Recipients ranged from physicians, nurses and aides to housekeeping and dietary services staff.
Mary McGuckin, manager of the Guardian Angel program, says that Guardian Angel recognitions have a dually important role.
"While our Guardian Angel donors are supporting the medical center, these gifts also shine a spotlight on the exceptional caregivers at Shore, making them an example for their peers and emphasizing our commitment to patient-centered care," said McGuckin. "Visiting the medical center can be a stressful and nerve-wracking experience, but the actions of our passionate caregivers like our Guardian Angels help make that experience so much better."
If you would like to honor a Shore Medical Center Guardian Angel, please contact the Shore Medical Center Planned Giving & Development Department at 609-653-3800.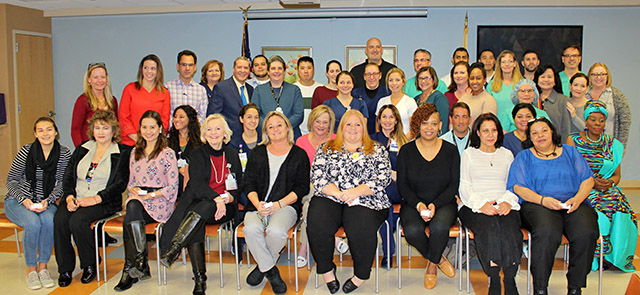 Shore Medical Center recognized 66 Guardian Angels at its 2018 Guardian Angel Pinning Ceremony held Dec. 6 in its DiOrio Hall. Honorees, many of whom are pictured here, include: (Advanced Spine & Orthopedic Institute) Gina Chern, RN; Ann Gibson, nurse aide; Jackie Gomez, nurse aide; Deborah Pestalozzi, RN; Brian Pross, nurse aide; Stacy Ross, nurse manager; Katie Sellitch, RN; (5th Hayes Unit) Marie Agovida, RN; Iliana Arroyo, RN, Carmen Bradley, RN; Kelly Duma, nurse manager; Angie Mycek, RN; Ralph Perna, clinical supervisor; Connie Pingue, RN; Bob Protesto, RN; Ryan Sherwood, RN; (5th Stainton Unit) Amanda Brozoskie, RN; Alisa Burke, RN; Virginia Claver-Oris, RN; Ana Lazaro, nurse aide; Lacey Straub, RN; (Cardiac/Pulmonary Rehab) Ruth Austin, stress technician; Christina Kozmor, director; Sandy Martini, exercise physiologist; Mark Zaleskiewicz, exercise physiologist; (Development) Jessica Mazzoni, Lightkeeper Liaison; Mary McGuckin, manager of the Lightkeeper's Society; (Emergency Department) Jerath Cruz, nursing tech; Funda Dalkirmaz, RN; Sandy Eyde, assistant nurse manager; Gina Gareffi, RN; Dr. Grim; Dawn Lee, RN; Dr. McElroy; Dr. Souto; Roger Weikert, RN; Barbara Zarella, RN; (Anesthesia) Christine Chalako, APN, CRNA; (Float Team) Linda Arreguin, RN; Courtney Gambino-Quinn, RN; Charmaine Hare, nurse aide; (Hospitalist) Dr. Ray; Dr. Teklezgi; Dr. Yankovitch; (ICU) Danielle Ashley, RN; Meghan Dawson, RN; Mike Kull, RN; Jeff McNight, RN; (Maternal Child Health) Kaitlyn Huntzinger, RN; Ella Rappoport, RN; Annemarie Steelman, RN; (Operating Room) Hermilina Bendijo, RN; Lisa Schultz, RN; Robert Teresi, RN; (PACU) Adelisa Hebron, RN; Paulina Pyzdrowski, RN; Gail Wilkinson, RN; (Respiratory) Harry Yue, CRT; (Shore Physicians Group Advanced Practice Professionals) Judy Genova, APN; Althea Santos-Duna, APN; (Unidine/Dietary Services) Guest Service Representatives Bethany Fitch; Manal Gerges; James McGovern; and Marguerite Plunkett, dietitian (Xanitos/Environmental Services) Martha Gaviria; Marta Isaza.