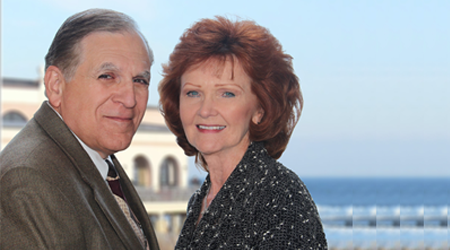 Tony and Ginny Cannata know their life together has been blessed in many ways, including with the gift of good health. They are thankful their decision to make a Planned Gift to Shore Medical Center did not come in the shadow of a serious illness.
"We're grateful that we've never been in need of the services offered by Shore Medical Center," said Tony. "That being said, Ginny and I feel that where much has been given, much is expected."
The quote from the scriptures aside, it doesn't take much to see that Ginny and Tony are both spiritual individuals, deeply involved in the community through their philanthropic support of Shore Medical Center and their church. In fact, over the last year, Ginny has served as a Shore volunteer, offering comfort and communion to patients within the medical center.
"We believe helping others is so important," said Ginny. "I enjoy volunteering at Shore and at our church. In life you have to count your blessings and give back in whatever ways you can."
Happily married for 28 years, Tony and Ginny relocated to the Harbor Pines section of Egg Harbor Township six years ago from their former home in Blackwood, NJ. While on the surface they may seem new to the community, Tony has been selling real estate in the Ocean City area for two decades. Seven years ago, after a successful career in corporate America serving as an assistant to CEO's at major companies like Strawbridge & Clothier and GS1US, Ginny joined Tony in his real estate business. "But I wouldn't join him in the commute, which is why we came down here a year later," Ginny quipped.
It was Ginny who made the initial connection to Shore, meeting the medical center's former CEO on the golf course. "The more we spoke to people, the more we heard about the great things that were happening at Shore," Ginny said. "No matter where you live, you need to know that there is quality care available close to home. We became comfortable that Shore could provide us with just that should the need ever arise."
Tony echoes Ginny's sentiments. In fact, his feelings come from a highly-educated background. After a successful career in banking, Tony worked 11 years as an executive for Blue Cross of Pennsylvania (now Independence Blue Cross & Blue Shield) and two years in telecommunications at the Hospital of the University of Pennsylvania (HUP).
"So much has changed in the world of healthcare," said Tony. "Going back 20 years, everything was focused around the hospital. Even if you just needed testing, you usually found yourself staying overnight. Today you need a medical center that has advanced capabilities, as well as leading outpatient testing facilities, services throughout the community and ties to expert physicians. Shore gives us all of that."
When Tony and Ginny decided to establish a Charitable Trust at the end of 2012, their first inkling was to check out Shore's Planned Giving website to see if it offered them an acceptable option.  When they liked what they saw, they contacted the Planned Giving and Development office and had a trust in place in less than a month.
"We're getting up there in years, and we want to have a strong community medical center," said Tony, whose comment jokingly drew a speak for yourself look from Ginny. "We like the Lightkeeper's Society function and the support it provides us.
"Shore Medical Center has strong affiliations with Penn and other leading providers, and we like that about Shore," Tony continued. "These affiliations and their spectacular new facilities are here for us, just two miles from where we live. You never know what life will bring, but Ginny and I would be comfortable coming to Shore for any healthcare issue. It's nice to know we don't have to go to Philadelphia because Shore is close to home, which is very important to us."