The School of Radiologic Technology
The Shore Medical Center School of Radiologic Technology is a full-time, two-year certificate program in Radiologic Technology.
Through participation in classroom, laboratory, and clinical activities, students are prepared to successfully begin a career as a Radiologic Technologist. The program is accredited by the Joint Review Committee on Education in Radiologic Technology (JRCERT) and the New Jersey Department of Environmental Protection (NJDEP), Bureau of X-ray Compliance.
Program graduates are awarded a certificate of program completion, which along with the possession of an Associates Degree or higher will allow them to apply for the American Registry of Radiologic Technologists (ARRT) Examination. Upon successful completion of the examination graduates may apply for New Jersey State licensure.

Shore Medical Center School of Radiologic Technology has a partnership with Atlantic Cape Community College. This enables applicants who do not already possess a degree to take the required prerequisite courses prior to applying to the radiology school. Applicants who have successfully completed the prerequisites, and the radiology program, will then receive an Associates in Applied Science degree in Radiologic Technology. Completion of the prerequisite courses at Atlantic Cape does not guarantee acceptance into the Radiology School.
Click below for Applicant Requirements & Program Overview.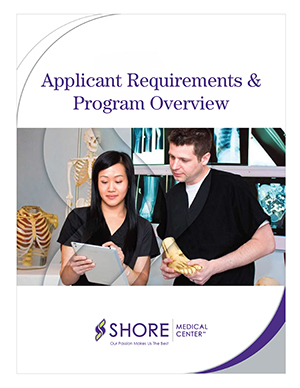 Program Mission Statement, Goals & Student Learning Outcomes Click Here.
Program Effectiveness Data Click Here.