Families, Expertise and Technology
Shore's Maternity Care Center takes pride in our unique ability to combine family centered care with clinical expertise and advanced technology. Our highly skilled nurses use bedside computer documentation, allowing more time to care for you and your family. We teach, nurture and grow our families with care, compassion and the most current evidence-based nursing practices.
Our Unique Approach
The staff of the Maternity Care Center encourage and support family members to spend as much time as possible with their babies in an environment of loving respect. Our Maternity Care Center is a place where new parents and their family members will have the opportunity to receive current information and personalized instruction on how to care for themselves and their newborn babies.
---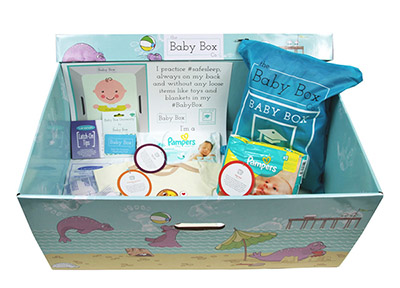 The Baby Box Program
Shore Medical Center is pleased to partner with the Southern New Jersey Perinatal Cooperative to provide new parents with a Baby Box. The Baby Box is a cardboard box with a mattress at the bottom that when used without blankets, pillows or toys will provide the infant with a safe place to sleep. The boxes are small, sturdy and portable and can be placed on the floor next to the parents' bed.
The American Academy of Pediatrics recommends that an infant should sleep in the parents' room in its first year of life, and in its own separate space. The Baby Box meets safety standards and serves the same purpose as a bassinet, which is recommended in the first few months of life, but is completely free of charge. It also includes other items like diapers, breastfeeding accessories and educational materials to give a baby its best start in life.
How to Get a Baby Box
To receive a Baby Box, register at www.babyboxuniversity.com, complete the New Jersey Curricula and print your certificate. Then, call Brenda Braun, Shore clinical educator for maternity and pediatrics, at 609-653-3752 or email bbraun@shoremedicalcenter.org. Boxes can be picked up 24 hours a day. To view step-by-step instructions on how to receive your certificate, click here.
---
Shore Medical Center - A Safe Haven
The safety and well being of every child and mother is the greatest concern of the Maternity team at Shore Medical Center. We are proud to be a Safe Haven hospital which provides distressed parents who are unable to care for an infant a safe, legal and anonymous option to give up custody of a baby who is less than 30 days old without fear of prosecution. The purpose of the Safe Haven act is to protect unwanted babies from being hurt or killed from unsafe abandonment. To find out more about the State of New Jersey's Save Haven Infant Protect act click here.