Shore's New Tele-ICU Revolutionizes South Jersey Intensive Care Medicine
Shore has partnered with Advanced ICU Care® – the nation's largest provider of tele-ICU services – to deliver 24/7/365 monitoring by trained intensivist physicians who are critical care specialists.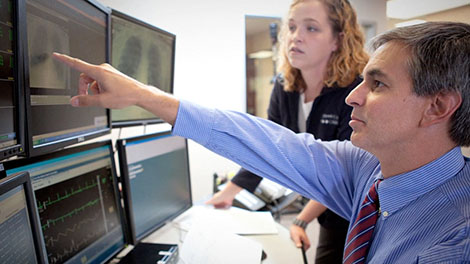 Shore's Tele-ICU – Working With Physicians
The Shore Tele-ICU program combines 24/7/365 intensivist-led care, sophisticated technology and a rigorous focus on best practices compliance. Advanced ICU Care's team of intensivists and critical care nurses work remotely, complementing the care provided by Shore's onsite intensivist team, led by Shore Physicians Group's Dr. James J. O'Connor III, Dr. Sallustio Del Re, Dr. William Adams and Dr. Allen Silvey. The Advanced ICU Care tele-ICU program continuously monitors patient vital signs, medications, labs, trends in patients' clinical status and outcomes of care. Data management tools identify problems before they become urgent, prompting intervention when necessary. In-room video is used during periods of evaluation or when called on by the nurse. This two-way video enables face-to-face consultations between the bedside staff, family members and loved ones and the Advanced ICU physician care team, ensuring that expert assistance is available when needed.
Setting the Standard in ICU Care
Shore is the first medical center in New Jersey to implement a tele-ICU program, which independent studies demonstrate meets the best practice standard of 24/7/365 intensivist oversight for all patients in an ICU. Additionally, the program:
Significantly improves patient outcomes and patient safety.
Provides a higher level of communication and support for the medical staff.
Offers additional avenues for communicating with family members and loved ones.
The Journal of the American Medical Association (JAMA) stated that implementation of a tele-ICU program was associated with reduced adjusted odds of mortality and reduced hospital length of stay, as well as with improvements in best practice adherence and lower rates of preventable complications. A study published by the New England Healthcare Institute (NEHI) recommends that community hospitals with 10 or more ICU beds adopt tele-ICU care.
Shore's Tele-ICU program Video
Listen to Shore Medical Center President & CEO Ron Johnson and Chief Medical Officer Dr. Jeanne Rowe discuss Shore's Tele-ICU program and the benefits it provides to patients, their family and their providers.
About Advanced ICU Care
Advanced ICU Care offers ICU programs to improve the clinical and financial performance of its hospital partners using a comprehensive approach with a proven track record of success. As the nation's largest tele-ICU provider, Advanced ICU Care has successfully implemented and managed more programs than any other organization. The Advanced ICU Care tele-ICU program combines experienced intensivist-led care teams, sophisticated technology and collaborative programs with hospital staff to achieve a rigorous focus on evidence-based best practices that helps improve patient care and safety. Our team brings insights gained from decades of nationally recognized ICU leadership and expertise in both bedside ICU and tele-ICU environments.