CAT Scan, or CT Scan as it is properly called, is a painless, non-invasive medical test and one of the most common diagnostic procedures in modern medicine. It allows our highly-trained physicians to see inside the body with more clarity than is possible with a traditional X-ray, thus helping to diagnose tumors, fractures, bony structures and infections in the organs and tissues of the body.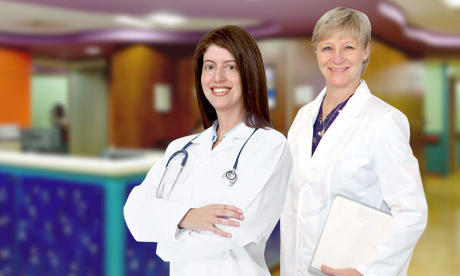 Advanced Radiology Solutions specialist Dr. Eileen Burach and Onsite Pediatrician Dr. Kathy McDonald.
Shore is the first medical facility in the country to have the Toshiba ADIR-3D Ultra Low Dose CT Scanner, which delivers the highest quality image at the lowest possible radiation dose. Its large bore opening offers a more spacious feeling for patients, and a higher table weight limit expands the range of people who can be imaged.
Among its most important features, the Toshiba ADIR-3D Ultra Low Dose CT Scanner provides a special pediatric package for use with our most special patients - children.
Because CT provides greater clarity than conventional X-ray exams, it is often the preferred method for diagnosing many different cancers, including lung, liver and pancreatic cancer. CT can confirm the presence of a tumor and measure its size, precise location, and the extent of the tumor's involvement with other nearby tissue.
Physicians find CT invaluable in diagnosing and treating spinal problems and injuries to the hands, feet and other skeletal structures because it can clearly show very small bones as well as surrounding tissues such as muscle and blood vessels. CT also plays a significant role in the detection, diagnosis and treatment of vascular diseases that can lead to stroke, kidney failure or even death.
Types of CT Scans:
General CT exams of head, neck, chest, abdomen, pelvis, spine, and extremities
CTA brain, neck, chest, abdomen, pelvis, and extremity runoffs
CT guided needle biopsy and CT guided drainage procedures
To learn about Shore and Advanced Radiology Solutions, or to schedule your appointment, call 609-653-4600.