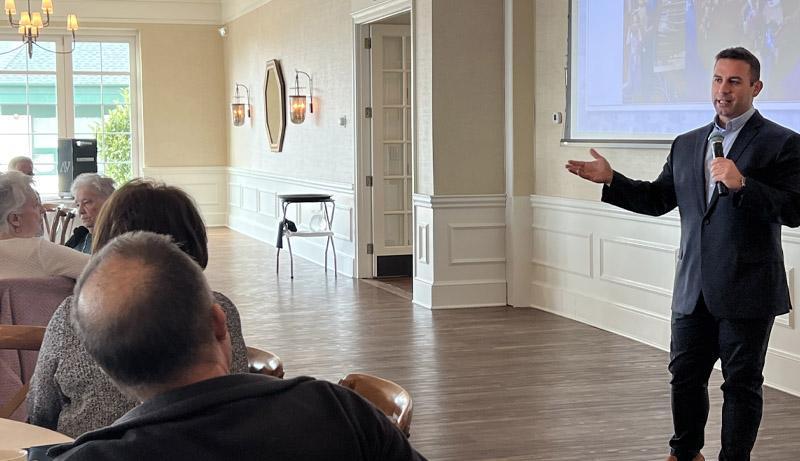 Why is exercise one of the most important things we can do for our hearts? How does hormone replacement therapy impact a woman's heart health? And if you have heart disease, why should you include a foot check in your daily routine? These questions, and many more, were answered at "Let's Have a Heart-to-Heart" on Thursday Feb. 23 at Linwood Country Club, where more than 100 guests enjoyed a free breakfast and cardiovascular health expo and presentations hosted by Shore Medical Center and Penn Medicine.
Before the presentations, guests visited with Shore Medical Center staff at tables for important health screenings including blood pressure, BMI, and glucose and cholesterol tests. They also learned how to perform CPR and use an AED to help save hearts. 
Jennifer Pero, Director of Cardiopulmonary Rehabilitation Services at Shore Medical Center who organized the expo portion of the event, said one takeaway is that overall, guests were in good cardiovascular health. 
"A majority of the people who attended today and opted to be screened seem to be doing the right things," Pero said. "But I also talked to a number of people who said they were going to modify their lifestyles and seek the help of a cardiologist based on what they learned today." 
Penn Cardiology's Dr. Gene Iucci presented first on the topic of exercise and heart health, explaining that regular exercise is one of the best things you can do for your heart. Dr. Iucci said, "There is evidence to suggest a sedentary lifestyle may be an even stronger predictor of mortality than established risk factors such as smoking, hypertension, and diabetes." He stressed that people should get 150 minutes a week of moderate-intensity exercise. Dr. Iucci then explained many ways that people could fit more exercise in, from condensing it to long walks on the weekends or parking 10 minutes away from work every day. 
"If you take two 75-minute walks on the weekend, that appears to provide similar health benefits to doing the same total amount of walking spread out during the week," said Dr. Iucci.  
Next, Penn Cardiology's Dr. Millee Singh presented on women and heart health, explaining in depth the possible heart attack symptoms women may face. Dr. Singh said often women will think these symptoms are due to other reasons, dismissing the potential that it could be a heart attack. She shared, "Women's cardiac symptoms can vary and can include, shortness of breath, nausea/vomiting, back pain, jaw pain, lightheadedness or fainting, and lower chest or abdominal pain similar to heartburn. You may attribute feeling short of breath to being out of shape, or if you're feeling more tired than usual, you may attribute it to not sleeping well. It's important to recognize that these symptoms could be heart-related and get care."
Dr. Singh also explained the link between hormone replacement therapy (HRT) for menopause and heart health. She said that studies show a link between increased risk of heart attack, stroke and venous blood clots for women on HRT, and that it's important to discuss your specific risks and weigh the pros and cons of taking HRT. 
Finally, Jessica Hulitt, Hyperbaric Technician with Shore Medical Center's Wound Care Center spoke about the link between cardiovascular health and chronic, non-healing wounds. 
"Red blood cells carry new cells to rebuild tissue, but poor circulation from heart disease can make wound healing take longer. A longer healing time interrupts daily life and can increase infection risk. That's why it's important if you have cardiovascular disease to check for wounds and get them treated. Our Wound Care Center can help," Hulitt said. 
Mary Beth Spiegel, 73, of Folsom, attended with friends and said that while she exercises regularly and feels pretty on top of her heart health, the event was eye-opening. "I thought this was very informative. It's a big push to get us motivated to do better for our hearts."