Shore Medical Center and Penn Medicine announced that the Shore Cancer Center is now a member of the Penn Cancer Network. This announcement brings expanded access to the highest quality cancer care for patients across Southeast New Jersey.
The Penn Cancer Network is a select group of community hospitals throughout Pennsylvania, New Jersey and Delaware collaborating with Penn Medicine's Abramson Cancer Center to provide excellence in cancer care throughout our region. Penn's Cancer Network hospitals are recognized for their excellence in patient care and a commitment to improving the health and well-being of their community.
"This is an historic announcement for Shore and our community. On behalf of our Board of Trustees, physicians, clinical and support staff, I want to let those patients who are battling cancer in our community know that we are doing everything we can to help you," said Ron Johnson, President and Chief Executive Officer of Shore Medical Center. "We joined the Penn Center Network so our patients continue to receive the best possible care close to home, right here in Somers Point."
"My family has a long history with the Shore Cancer Center. My father in-law Dr. George Mckeon, was an ED Doctor at Shore Medical Center and World War II veteran who was wounded storming the beaches of Normandy. He settled in Somers Point with his wife who he met while attending medical school in Ireland. The Cancer Center now sits on the site our family's former home site and medical practice. I believe in the team at Shore Cancer Center, and we are so proud to have such great partners in Penn Medicine," said David Hughes, Chief Development Officer and Chief Financial Officer. "The partnership with Penn Medicine will help us further our reach into the community, and garner additional support that will have a direct impact on cancer patient care."
Joseph Johnston, Director of Oncology Services at Shore Cancer Center says the Penn Cancer Network offers a host of benefits that amount to a tremendous clinical advantage. "Our partnership with Penn includes clinical research, community and patient education, disease specific program development, patient access, professional education for nurses and physicians, and Quality & Safety." 
"Providing the highest quality cancer care and expanding access for patients across the region – and beyond – is a chief priority of the Penn Cancer Network," said Robert Vonderheide, MD, DPhil, director of the Abramson Cancer Center of the University of Pennsylvania. "In addition to giving more patients access to things like participation in clinical trials or advanced diagnostic testing, surgery, and radiation techniques, the Penn Caner Network will also allow providers at both the Abramson Cancer Center and Shore Cancer Center to work together to evaluate patients thoughtfully in order to provide the right treatment plans for each individual."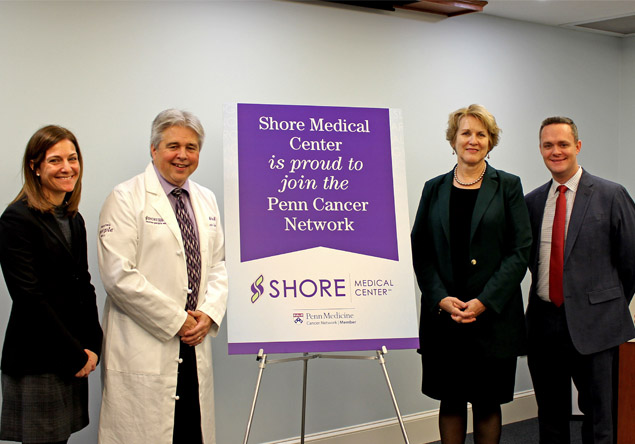 From Left to Right: Lori Gustave, Senior Vice President, Business Development, University of Pennsylvania Health System; James M. Pond, M.D., F.C.A.P., Medical Director, Cancer Program and Cancer Committee Chair, Shore Cancer Center; Joy Sutter, Associate Chief Administrative Officer, Cancer Service Line, Penn Medicine; Joseph Johnston, Administrative Director of Oncology Services, Shore Cancer Center
About Shore Cancer Center
Since 1987, Shore Cancer Center has received accreditation from the American College of Surgeons Commission on Cancer (CoC), by meeting or exceeding the organization's stringent standards for patient care. Only one in four community cancer programs nationwide are qualified to earn this level of accreditation that is granted to those facilities that have voluntarily committed to provide the best in cancer diagnosis and treatment and are able to comply with established CoC standards. Each cancer program must undergo a rigorous evaluation and review of its performance and compliance with the CoC standards every three years. CoC-accredited cancer programs throughout the nation diagnose and/or treat 80 percent of newly diagnosed cancer patients annually.
The Shore Medical Center Radiation Oncology Department is accredited by the American College of Radiation Oncology (ACRO). ACRO Accreditation ensures that Shore's program meets the most current and stringent standards in staffing, equipment, quality control and technical capability.
The Shore Cancer Center's mission includes a commitment to reduce stress and discomfort, thereby allowing the patient to focus on healing and recovery. An important part of fulfilling that mission is providing services beyond the clinical need -- building a safety net of supportive care programs to enhance the healing process.
Shore Cancer Center is located at the corner of Shore Road and Medical Center Way in Somers Point. For more information about cancer support services at Shore Medical Center, call 609-653-3585.
About Penn Medicine
Penn Medicine is one of the world's leading academic medical centers, dedicated to the related missions of medical education, biomedical research, and excellence in patient care. Penn Medicine consists of the Raymond and Ruth Perelman School of Medicine at the University of Pennsylvania (founded in 1765 as the nation's first medical school) and the University of Pennsylvania Health System, which together form a $7.8 billion enterprise.
The Perelman School of Medicine has been ranked among the top medical schools in the United States for more than 20 years, according to U.S. News & World Report's survey of research-oriented medical schools. The School is consistently among the nation's top recipients of funding from the National Institutes of Health, with $425 million awarded in the 2018 fiscal year.
The University of Pennsylvania Health System's patient care facilities include: the Hospital of the University of Pennsylvania and Penn Presbyterian Medical Center—which are recognized as one of the nation's top "Honor Roll" hospitals by U.S. News & World Report—Chester County Hospital; Lancaster General Health; Penn Medicine Princeton Health; and Pennsylvania Hospital, the nation's first hospital, founded in 1751. Additional facilities and enterprises include Good Shepherd Penn Partners, Penn Home Care and Hospice Services, Lancaster Behavioral Health Hospital, and Princeton House Behavioral Health, among others.
Penn Medicine is powered by a talented and dedicated workforce of more than 40,000 people. The organization also has alliances with top community health systems across both Southeastern Pennsylvania and Southern New Jersey, creating more options for patients no matter where they live.
Penn Medicine is committed to improving lives and health through a variety of community-based programs and activities. In fiscal year 2018, Penn Medicine provided more than $525 million to benefit our community.