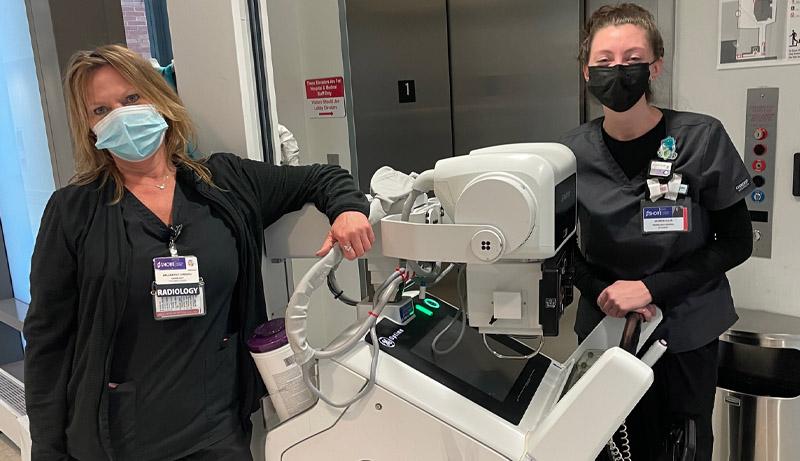 Mobile imaging has been a vital part of patient care since Marie Curie was going out on the battlefields with mobile x-ray during WWI. While mobile x-ray has been around for more than 100 years, many patients may be unfamiliar with these miraculous machines, so we caught up with Arleen Fay-Crespo Radiology Technologist and Jessica Ellis, a Radiology Technologist student to find out more about this life-saving technology. 
At Shore, two types of mobile x-ray are used. The first, known as a C-ARM a mobile imaging unit used primarily for fluoroscopic imaging and the second is used throughout the hospital. Fluoroscopic imaging allows images to be captured inside parts of the body in real-time is used during procedures such as joint replacements, hand surgeries, spinal fusions, interventional radiology, and endoscopies. 
"The C-ARM captures instant imagery and has live capabilities, both of which are essential in OR, " explains Fay-Crespo. "The C-ARM also is able to contort to a situation or variety of situations throughout these procedures."
The second type of portable x-ray is the mobile united that is used in the hospital for patients who are not fit for transfer to the radiology department. Patients in this condition can be sedentary and develop health complications as fluids build up. X-rays of the chest can show treatment as well as help prevent complications. This unit is also vital to the care for post-operative patients who are intubated and/or groggy coming out of anesthesia.
In addition to mobile x-ray, another type of mobile imaging that is to used to provide patient care bedside is mobile ultrasound. Ultrasound uses high frequency sound waves that travel through the body and reflect an echo back to the monitor for interpretation. It can be used to study parts of the body including hearts, major blood vessels, and other soft tissue organs. Like mobile x-ray, portable ultrasound technology provides critical results bedside and are essential in providing patient care. 
"These mobile units gives doctors the inside perspective on how to treat patients, and I really appreciate being a part of that process," says Ellis, 22, of Egg Harbor Township who is currently enrolled in Shore Medical Center's School of Radiologic Technology. "Personally, I have been fascinated with x-rays since I was in fourth grade, so becoming a crucial part of a healthcare team as a Radiology Technologist is a live long dream come true."
Fay-Crespo, who joined Shore in 2021, has been a Radiology Technologist for 24 years. She adds, "We always have to be so particular in our work so as to make sure the highest standard is always delivered. Our doctors depend on us to provide the highest quality of images so they can provide the best care for our patients. As a Radiologic Technologist, I also have the opportunity to train and work with our students like Jessica, and educate them on how to use the technology but also to learn how to interact with patients on a personal and emotional level. It's very rewarding."
To learn more about Shore's School of Radiologic Technology, call 609.653.3924 or email radiologyschool@shoremedicalcenter.org.